Starting a oral surgery practice takes a significant amount of time to plan, organize, and implement. The fact is that specialists are skilled at what they were trained to do: surgery. There aren't many who have experience with starting a new business. One would not trust a new student to perform complex surgery on a family member. Similarly, one should not attempt to undertake a new oral surgery practice without professional advice in accounting, finance & law.
At OMS Partners, we are the link for oral surgeons who aspire to begin their own practice. We know the ins and outs of what it takes to launch a business successfully, from the location of the practice itself to the marketing strategies, entity establishment, employee training, and more. Our professionals will coordinate every aspect of the project with the highest level of detail to ensure the practice is positioned to have a successful beginning.
Why Start an Oral Surgery Practice Instead of Buying an Existing One?
Whether you are just beginning your career or are ready to venture out on your own, there are numerous benefits to starting an oral surgery practice that is all yours:
You are in control. You get to make all of the decisions and create the practice you have always envisioned. There is no compromising on issues that are important to you. You are your own boss.
You choose the location. In the city? The suburbs? Standalone? Part of a complex? You choose where you establish your practice.
You create the environment. From the colors and layout to the furniture and equipment, you build your practice to fit your vision and the type of environment and service you want to provide.
You build your own reputation. You are not following in anyone's footsteps. You get to grow your own patient base and develop a name for yourself through your own hard work.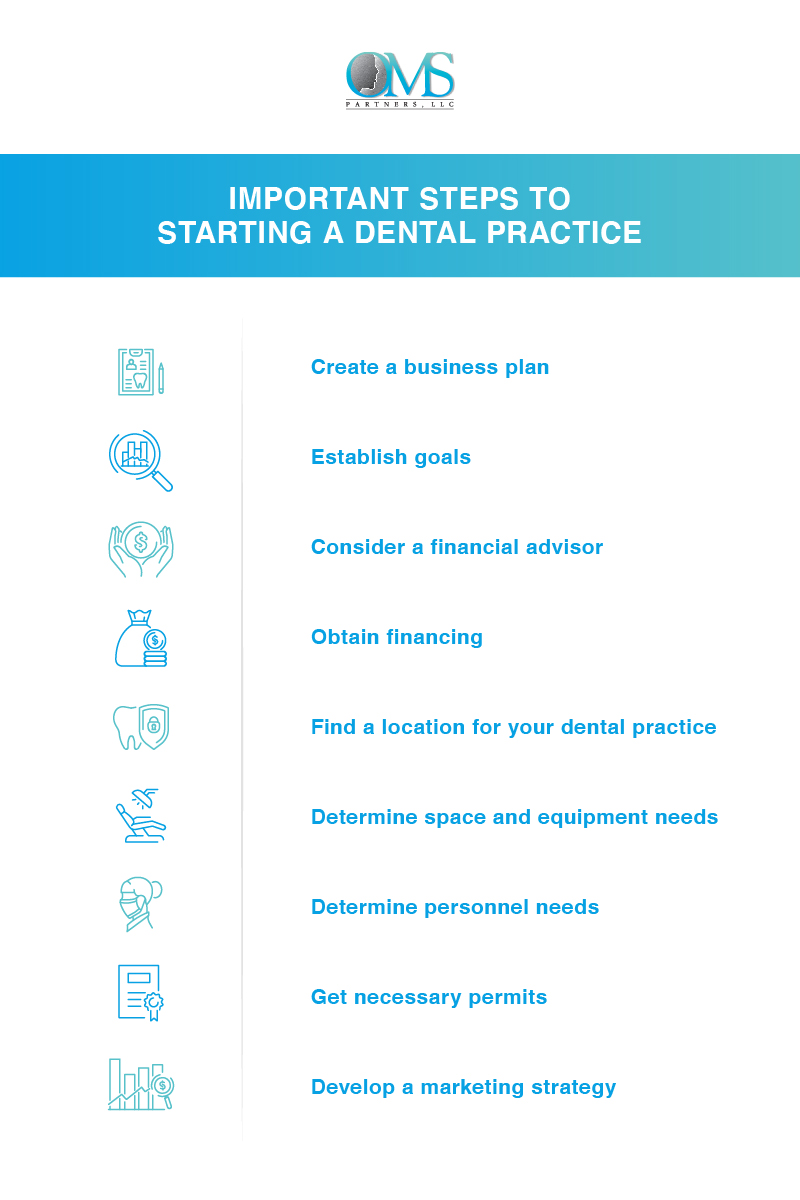 I knew that I was ready to see patients when I finished my training. I didn't know how to run the practice. I was immediately struck by the complexities involved in managing a busy oral surgery practice.
Benefits of Buying an Existing Practice
Starting an oral surgery practice from scratch can be challenging and time-consuming, so many oral surgeons opt to buy an existing practice and hit the ground running:
You already have experienced staff. While you can make changes to staffing as you see fit, you will be starting off with a team in place to keep things running smoothly during the transition and as you settle in.
You acquire a book of business. An existing practice already has established patients, so you will not spend all your time trying to drum up business to stay afloat. You can focus on providing exceptional care and expanding your current patient base.
Processes and procedures are already in place. There are already billing, accounting, payroll, and management practices set up. You can adjust them as necessary to fit how you want to run the practice, but the foundation is already there.
Steps to Acquire an Oral Surgery Practice
Once you have decided that you are ready to buy an existing oral surgery practice instead of starting from scratch, there are several steps that need to take place:
Surround yourself with knowledgeable professionals. You will want to work closely with a team that is experienced in finance, law, accounting, management, and other areas to ensure that you are purchasing the right practice for you and getting a fair deal.
Prepare an offer and letter of intent. After you find an available practice, you want to submit a reasonable offer and discuss what will be included and excluded from the sale.
Secure funding and insurance. Work with the bank to get a loan for the purchase. You will also need to set up your own insurance policies such as malpractice, property, and liability.
Sign the agreements. Once you have reached a mutual agreement, sign the documents to make it official.
Send a transition letter to patients. Introduce yourself to existing patients and let them know about the change in ownership and any changes to the practice.
Services we offer To help you Effectively Start An Oral Surgery Practice
Oral surgeons don't have to be alone when starting a practice. Our comprehensive services include:
Basic Business Planning.
Oral surgeons don't need a business degree to start their own practice. Our business planning services include helping surgeons establish a legal entity, researching the most optimal locations to set up the practice, acquiring financing, bookkeeping, credentialing, preparing a five-year financial pro forma, and more. While these services may seem basic, they are very time-consuming and require skilled experience to do correctly. Our professionals can take a concept and turn it into a reality.
Facility Coordination
Once a location is chosen for the new practice, we will work with architects to design the office space. We will work with the business owner to understand their specific desires and make our suggestions to ensure maximum workflow efficiency. The latest technology is incorporated with every practice we plan so that businesses can operate smoothly and optimal experiences can be provided to patients.
Communication With Contractors
We work with contractors, so the business owner doesn't have to. The communication process is streamlined, so all a business owner has to do is talk to us, and we will relay the information to contractors. From the management of the construction itself, funding, installation of equipment, and more, we are in constant contact with contractors to ensure timing requirements and all expectations are met.
Installation Of Equipment, Furniture and More
One of the most exciting parts of starting an oral surgery practice is getting to select new furniture, equipment, and services. However, some surgeons don't see this as being exciting at all. In either situation, our team will coordinate all the furnishings needed for patients and staff, including any specialized equipment and services. Everything needed for smooth day-to-day business operations is taken into consideration.
Recruiting
A major component of successfully starting an oral surgery practice is having the right personnel in place. With our recruiting services, we can help attract the top talent in the area to get the practice started the right way. We will be involved as little as or as much as the business owner would like us to be when it comes to recruiting staff.
Human Resource Services
Employees want to have the best possible health insurance and other benefits, and we are committed to helping secure them. One thing many oral surgeons starting a practice find out is how difficult it is to put together an attractive benefits package while staying within a budget. We will keep the budget in mind as we put together the optimal human resource services for your new oral surgery practice.
Extensive Training
We won't stop helping once the business has been established. Our extensive training program ensures all employees understand the equipment and services so there won't be a bumpy start.
Marketing
Every great business has an effective marketing strategy. While the OMS market is slowly changing to a "direct to consumer" approach, for the time being, it is still overwhelmingly referral based. We help you to implement a referral marketing program to get your and your practice name recognized in the community. We will also advise and work with qualified third parties in regards to SEO, SEM, and other related online topics.
Mentoring
We are always available to provide mentoring services from other professionals in our network. Starting an oral surgey practice is going to come with bumps in the road, but new business owners can feel confident knowing a mentor is always by their side.
Work With OMS Partners Today
If you've been thinking about starting an oral surgery practice and don't know where to begin, then give OMS Partners, LLC a call at (713) 961-2723. You can also use our online form. We are eager to help you build a successful, profitable practice and a place that patients will feel comfortable.